Outdoor LED Display P8mm 1024mm X 768mm LED Panel For Firm Installation
Die casting aluminum LED panel 1024mm X 768mm is design for outdoor LED display P8mm, which is used for hi end advertising LED screen, LED wall, LED billboard market. Dosatronics chooses extremely good brands of LED chips, LED encapsulation, IC, PCB, cables, powers, and cabinets for the production of LED screens. You can also choose 1024mm x 1024mm steel LED panel for large area LED screens. All the LED Displays are widely used in lots of applications, especially in city landmark, Huge Buildings, Plaza, airport, seaport, train station, bus station, scenic area and resort, Event and stage, banquet, concert, product launch, press conference, sports and stadium etc.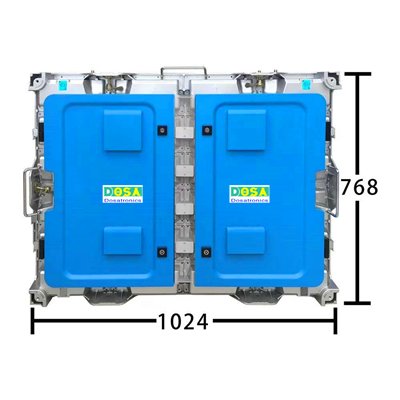 Specification & Parameter

Pixel Pitch

8mm

Pixel Density

15625dots/㎡

Pixel Configuration

SMD 3 in 1

Module resolution/size

32*16; 256mm*128mm

Viewing Angle

120° , 120°

Cabinet resolution/size

128*96; 1024mm*768mm

Brightness

≧6000Nits

Weight

50kg/㎡, Steel cabinet

Refresh rate

≧1920HZ

Voltage

AC 88~132V or 176~264V

Frame rate

≧60HZ

Power Consumption

Avg.400W/㎡,Max. ≦800W/㎡

Working temperature range

 -20℃ ~ +50℃

Waterproof level

IP65 front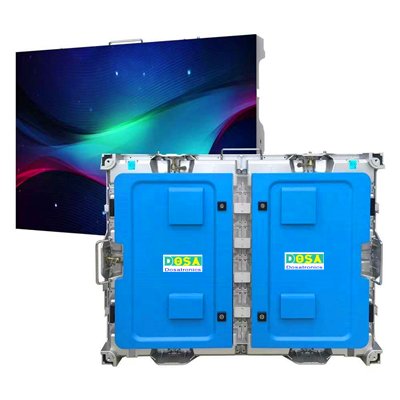 Dosatronics designs and produces high tech and advanced LED displays. Outdoor P8 and P10 are both widely used for huge area LED display since their cost is very low. Especially outdoor LED display for advertising has high brightness, high contrast, high refresh rate…In the this display and media industry in the world, Dosatronics LED screen, LED signs, LED wall, LED panel products are highly praised by our clients. Surely, both of them P8 and P10 can share same size LED panel 960mm*960mm. Through strict Quality management System, Dosatroncis LED displays keep strong stability. Most of the LED screen producs has over 2 years quality warranty since all components are chosen by strict IQC. It depends on your screen size and your budget. All these excellent LED screen products will benefit for you very soon. Dosatronics outdoor LED screen is your first choice.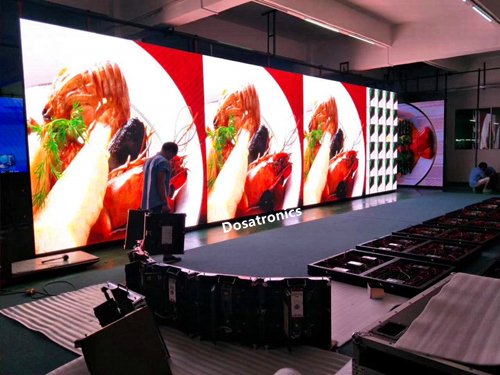 Factory Equipment

SMD Machines, Wave Soldering Conveyor, PC Console, Wave Soldering Machine,
Automatic Glue- pouring Machine, Solder Paste Printing Machine,
Reflow Soldering Machine, Automatic Solder Paste Printing Machine,
Withstand Voltage Tester, Ground Resistance Tester,
Medium-speed Automatic SMT Machine, Super Mute Terminal Machine,
Automatic Wire Stripping Machine, Automatic Optical Inspection (AOI) Equipement.

Control System Connection

NOVASTAR, LINSN, COLOR LIGHT, HD, KYSTAR, Dosatronics Controls system


Package

All Dosatronics LED displays, LED screens, LED signs, LED walls, LED billboard, LED board products, surely the special shape LED display, are packed with Wooden box, Carton, flight case to ensure the safety in the shipment and transporation.
Warranty and Service
Normally speaking, all LED screen, LED display, LED signs, LED panels, LED billboards made by Dosatronics are equiped with good quality, outstanding performance. Generally, one year to three years quality warranty are widely used. For some special project of LED display in bidding, the givernment requires over three years to five years quality warranty. There is no problem. Dosatronics will choose the best raw material including the brand of LED chip, LED encapsulation, IC, PCB, powers and all other factors. Dosatronics has a very strong team of experienced engineers to instruct, install, debug the LED screens and train clients 24 hours on line. They can also fly all over the world to the clients to teach them hand by hand. Outdoor LED Display P8mm 1024mm X 768mm LED Panel For Firm Installation