LED Ball Display installed in National Geographic Hall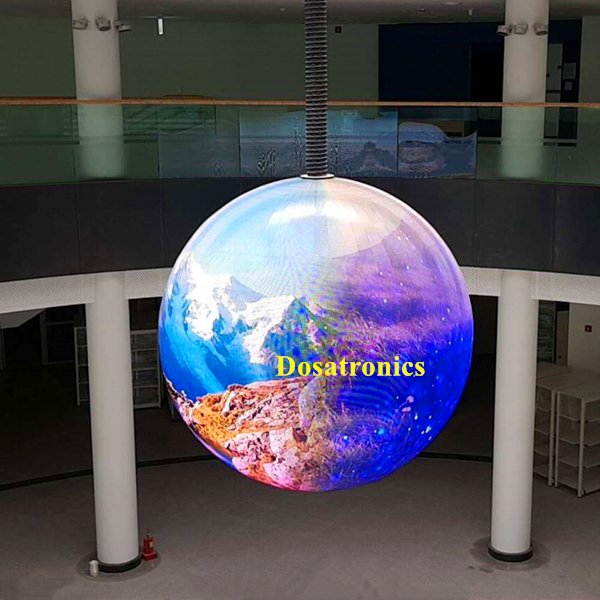 A diameter 3 meters LED ball display was successfully installed in the National Geographic Hall. This customized LED panel was design with special shape LED ball display, LED board, LED video wall etc.Dosatronics indoor LED display is very popular in Europe and America LED wallmarkets.With our own patents, especially all the indoor LED screens for event and stage has high brightness, high contrast, high refresh rate…All of them is popular both in domestic and overseas market. We adopt unbeatable product stability through strict Quality Control System with many kinds production and test equipment and facilities. It is very correct for you to choose our company, our outdoor LED screen products. All of them has 1-3 years quality warranty since all component are extremely good. They can bring you large fortune in a very short time to buy our LED panels.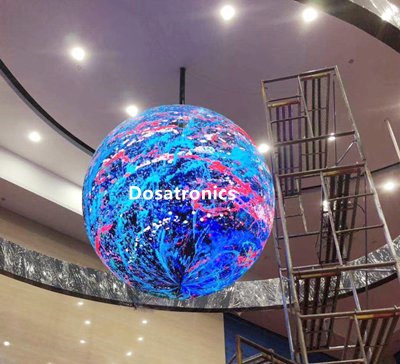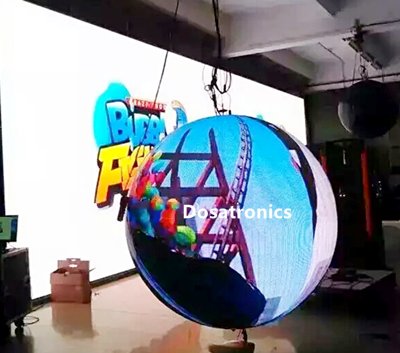 Our LED Display Advantages:
1. Locks on both sides of cabinet contribute to uniformity and flatness of two neighboring cabinets.
2. Neat and Hidden Wiring allow the display more tidy and beautiful.
3.Steady performance and low death rate of light
4. Own designing team for new products development 
5. Independent design of PCB board circuit : tidy electronic line and Uniform color
6. New pattern vacuum package
7. Super-slim design, easy dismantling and assembling can save the space of trailer led display.
With the light cabinet in aluminum alloy, we make the trailer led display much lighter, which reduces the weight of trailer to help it move faster.
8. No noise pollution occurs during working due to our high-quality cooling fan and alleyway ventilation design which reduce the quantity of cooling fan.
9. With ingress protection IP65, it's absolutely safe for your display to continue working under rainy situation.
10. The working trailer causes static electricity easily, especially in the autumn, so our unique anti-static electricity protection system can protect LED lamps and driver ICs.
11. With wide-voltage design, it can prevent the damage caused by the high pulse voltage at the start, brake or stop of trailer.
Normally speaking, all LED screen, LED display, LED signs, LED panels, LED billboards made by Dosatronics are equiped with good quality, outstanding performance. Generally, one year to three years quality warranty are widely used. For some special project of LED display in bidding, the givernment requires over three years to five years quality warranty. There is no problem. Dosatronics will choose the best raw material including the brand of LED chip, LED encapsulation, IC, PCB, powers and all other factors. Dosatronics has a very strong team of experienced engineers to instruct, install, debug the LED screens and train clients 24 hours on line. They can also fly all over the world to the clients to teach them hand by hand. Indoor LED ball display has been widely used in teh exhibition hall, museum and government orgnization halls. Indoor and outdoor LED ball display is very popular.